Digital marketing has taken numerous iterations over the years and continues to grow and change along with the digital world around it. However, one of the biggest developments in online marketing has to do with personalization—particularly for those in Ecommerce.
Personalization has become one of the cornerstones of most marketing strategies. It plays an essential role in helping many organizations retain customers, build trust among audiences and stay relevant in their industry. A big part of implementing personalization into a brand's current initiatives is having several touchpoints throughout the marketing and sales process so that companies continue to stay engaged with customers through several potential points of contact.
The good news is, implementing this type of personalization is easier than it seems; you just need customer data, the right artificial intelligence (AI), and a little creativity on your side. Ready to see how?
Personalization Touchpoints
What Are the Different Types of Personalization Marketing Touchpoints?
Personalization marketing touchpoints aren't one-size-fits-all. There are a few different ways that you can create a personalized marketing initiative that will engage current customers and encourage purchases from new ones. Here are a few of the many types of personalization touchpoints you can add to your current marketing efforts.
Email
Email marketing has been one of the most effective and longstanding forms of digital marketing, and email continues to be a preferred way of communication for many online shoppers. However, to escape the feelings of out-of-date blast emails, it's important to bring a sense of personalization to these emails.
Personalized marketing emails can be a valuable touchpoint between online brands and their customers. While some companies think that personalized marketing emails just include a customer's first name in the subject line, it's about so much more than that. Personalized emails can engage with customers and offer them exclusive discount codes and product recommendations based on their customer data and history.
This is one of the easiest ways to meet customers where they are and to show them the type of personalized content they want to see.
Ads
Online ads are completely changing the way that many brands market their business, and it's one of the only ways that Ecommerce companies can successfully promote their web-based company. However, studies show that ads work best when they are personalized and catered to shoppers.
Similar to personalized emails, personalized ads are a great way to touch base with customers and offer them promotions and feature ads based on a customer's interests and behaviors. For example, you can personalize ads to showcase specific products to a specific individual who has already shown interest in your items.
This way, if you have a customer who showed interest in water bottles, then you can make sure that targeted ads for water bottles appear when they're online.
Websites
Websites can be personalized just like anything else. This means when your customers visit your website, they can get a completely curated and personalized shopping experience based on this history and their past behaviors.
Using AI, it's easy to set up your site so that every time they visit, they can see personalization ranging from a curated dashboard, insight on their past purchases, or information relating to their rewards program status.
Your website should feel like an engaging experience for your customers and a touchpoint that opens up their eyes to all of the possibilities that can come with shopping from your brand.
Product Recommendations
Brick-and-mortar stores have been relying on product recommendations for years. After all, every store owner knows a great sales associate can upsell or recommend products to the shoppers in front of them.
Brands can bring the power of an engaging sales associate into their Ecommerce store with the right AI and personalization approach. Some algorithms can specifically recommend products based on a customer's data, past behavior, former interactions with your site, and more.
This is a great way to easily upsell a customer or encourage them to add additional products to their cart—but it also helps foster a relationship as their eyes can be opened to new items they may have never considered before.
Chatbots
Chatbots have come a long way in recent years and are now more comprehensive and effective than others. Thanks to advancements with Chat GPT, the right bots can engage with customers, recommend products, answer customer service questions, and more—all without requiring time from an actual human employee.
Personalization touchpoints don't always have to be recommendations, they can just be friendly touchpoints when your shoppers feel as though they are constantly being engaged with whenever they visit your site.
Unboxing Experiences
Personalization touchpoints don't just happen on screen—even for Ecommerce companies. The personalization experience can extend to the unboxing experience. After all, unboxing is the first physical interaction that customers have with an Ecommerce company.
Before a customer even touches the product they order, they're going to touch the packaging and unbox it first. Inside that packaging, you can include completely customized inserts that utilize the same AI and customer data used for things such as personalized emails, websites, and ads.
A beautifully-printed professional looking insert that engages the customer, and offers them insights on products, coupon codes, or how to use their products can truly transform an otherwise standard opening experience. There's only one chance to make a great first impression, and these personalized inserts are a great way to do this.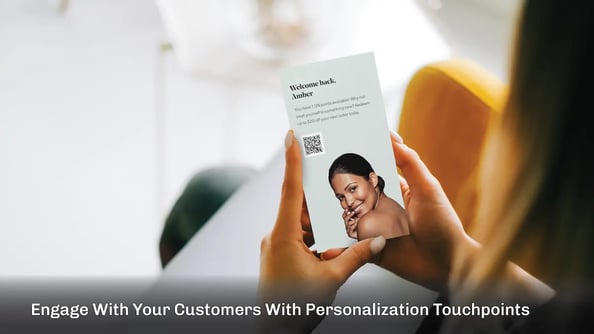 Conclusion
Here at UnDigital, we know that a successful personalized marketing campaign involves multiple approaches and multiple touchpoints that will keep customers engaged with your brand. These efforts can make all of the difference as you grow your brand and help turn casual browsers into dedicated customers for life.