There is a lot that goes into running your Ecommerce business. Chances are, you already knew that. Even if you are just getting off the ground as a one-person operation, everyone needs some help now and again.
This is where Ecommerce tools come in.
The right tool or software program can be your right-hand man as you navigate the waters of running an Ecommerce business in today's market. But with so many options out there, how do you sift through all of the available programs to find one that will work for you?
We've already done the legwork for you, curating a list of the best Ecommerce tools out there. Which one will fit your brand's unique needs?
Shopify
Cost: $9/month- $299/month depending on the plan and features you want.
No list would be complete without Shopify, perhaps the biggest and most recognized Ecommerce tool on the market. So, we started with this industry giant.
The thing that we love about the Shopify app is that it lives up to the hype. This fully hosted package handles everything from updates to backups and it has built-in marketing tools for your Google and Facebook campaigns. Plus, all of this is in a single dashboard that makes navigation a breeze.
Want to build a new website? Shopify's drag-and-drop website builder has you covered as well. This makes it easy for everyone from big brands to independent stores to get started.
Here are some of the other pros (and cons) of partnering with Shopify.
Pros:
Easy integration to other third-party payment platforms
Allows you to sell everywhere, even on social media
Top-of-the-line site performance


Cons:
The upgraded "pro features" come at a high cost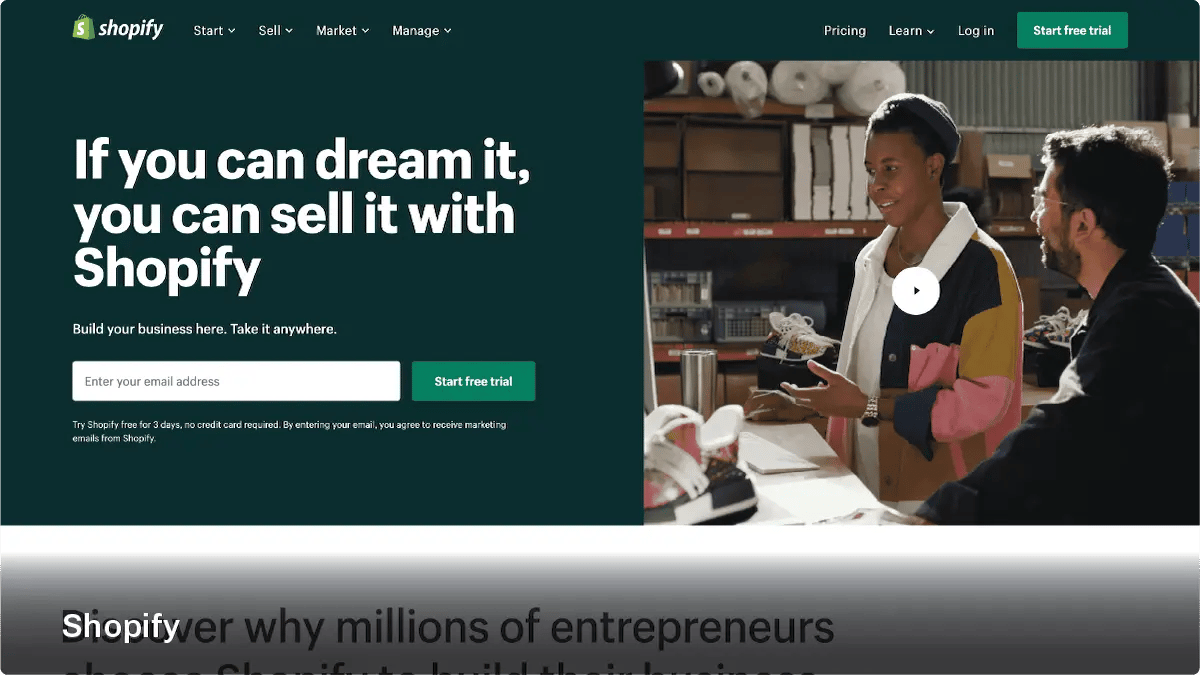 BigCommerce
Cost: Pricing is $30 to $300 per month
Don't let the name fool you, BigCommerce is a tool that truly works for all types and sizes of businesses, which is why we put it on our list. This powerful platform offers endless options to help grow your business and turn it into the big enterprise you've been dreaming of.
We love that this tool features drag-and-drop design elements and that it easily integrates with countless third-party apps. It has powerful analytics for customer feedback and comes with an open SaaS platform. Thanks to the Google Cloud Platform, you can enjoy best-in-class uptime and server response times as well.
Want to add popular storefront conversion features like coupons and digital wallets? BigCommerce has you covered. Here's what else you can expect:
Pros:
Feature-filled and flexible
Reliable and secure platform
Very user friendly
Cons:
Depending on your needs, can be expensive



3dcart
Cost: $19/month to $229/month depending on plan and features


While 3dcart may not have the same name recognition as big brands like Shopify, it is one of the fastest-growing Ecommerce tools out there for companies that want high-converting online stores.
This Ecommerce platform is filled with features that can help make creating and managing an online store a breeze. This includes over 200 built-in features and 50 free themes you can use to get your store off the ground. There is also full access to HTML and CSS if you want more customization with your site.
We also love that 3dcart supports more than 100 payment processors and has cart recovery tools, all designed to lessen the number of abandoned carts that could be impacting your bottom line. Here are some of the other pros and cons you can expect when working with 3dcart.
Pros:
All-in-one Ecommerce platform including website building
Complete hosting services
SEO-friendly capabilities
VISA PCI Certified Security
Cons:
HTML and CSS knowledge required for advanced customizations
"Pro features" come with a high price tag

WooCommerce
Cost: Free With Optional Upgrades
WooCommerce is another one of those companies that is making major waves in the Ecommerce world. One of the biggest reasons companies are turning to WooCommerce is that it is available for free.
The free version is fairly robust despite not costing anything. While you will need to purchase certain features to upgrade your experience, it allows for more customization and more bang for your buck.
This Ecommerce tool works best for those who want to add shopping capabilities to their existing WordPress website. This means if you already have a successful WordPress site, you can easily add Ecommerce functionality to this existing platform. Plus it is extremely easy to use, even for those new to site-building.
Pros:
Allows customers to only pay for the features that they need
Free version filled with features
User-friendly and open-source
Cons:
Need to have an existing WordPress site to use it
No drag and drop features



ProProfs Help Desk
Cost: Free Version or $10/month - $15/month
Many potential hiccups can get in the way of your Ecommerce business, but some of the biggest challenges that companies today face all have to do with customer service. Catering to the needs of your customers virtually can be difficult without those face-to-face interactions.
This is where ProProfs Help Desk comes in.
This program will help you respond to every customer email right away while tracking the progress of every customer request and issue. It has a shared inbox for simple collaborations and will deliver reports that can help you manage individual and team performance. It also gives you the option to use Live Chat help features for customers who have questions while shopping in your store.
Pros:
Free version is available
Easy to set up with no required expert training
User-friendly interface
Cloud
Cons:
Minimal third-party integration options (only includes internal integrations such as Knowledge Base, Live Chat, and Survey)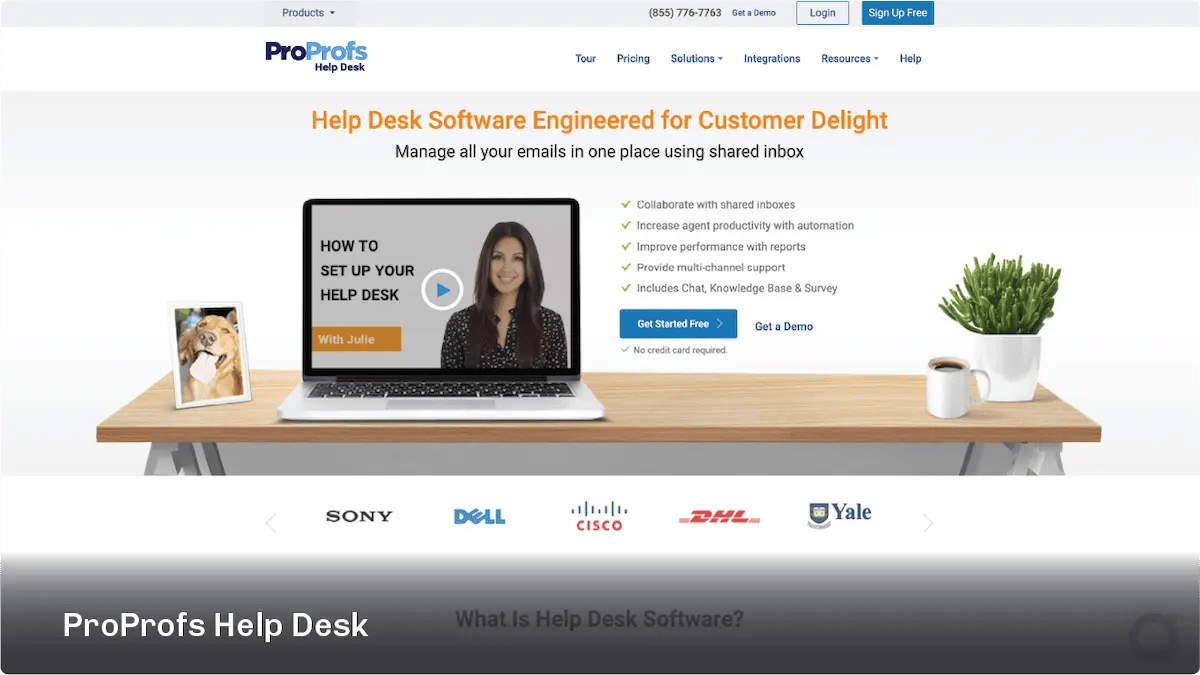 The right tools can go a long way in boosting your business and helping you handle the day-to-day challenges that come with the Ecommerce marketplace. With a little assistance from these software programs and the right plan in place, you can easily take your online business to that next level.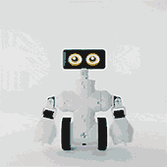 You've made it this far and you've learned so much. Congratulations!

If you're looking to learn more about marketing or Ecommerce in general, feel free to reach out to us at: solutions@undigital.com