Today's average consumer is spending more time than ever shopping online and less time in-store than ever before. It's no secret that Ecommerce is the future and that more and more brands are transitioning to operate entirely online.
However, this has left many Ecommerce markets extremely over-saturated. This makes it difficult for brands to stand out and challenging for customers to find exactly what they need.
This is where hyper-personalization comes in. This strategy leverages artificial intelligence (AI) and data to help identify customer needs and keep brands ahead of their competition.
Sounds like the best of all worlds, right? It can be. You just need to know how to leverage hyper-personalization to your advantage. Ready to see how?
What is Hyper-Personalization?
Hyper-personalization is a process of developing offerings that capture an online consumer's time while encouraging them to make purchases. It does this by using AI and customer data to ensure these shoppers are being put in front of the type of data that they want to see.
Today, brands are actually able to leverage and analyze customer data in real time to give their consumers better, and more personalized interactions. This is hyper-personalization at work.
To drive growth, today's commerce companies need to better understand and reach their most valuable customers. These are the individuals who engage more online and who are willing to pay for content and services that meet their needs.
Data shows consumers are interested in this more personalized and streamlined experience—and they're willing to trade personal data for practical benefits such as highly personalized interactions with their brands. This has made the process of data collection easier for today's Ecommerce companies and opened the doors for even more personalization benefits than ever before.


How Does Hyper-Personalization Work For Ecommerce Brands?
Hyper-personalization can make all of the difference in a brand's ability to reach a specific type of shopper who is looking for their particular type of product. For example, if a customer is looking for a new pair of running shoes, and browses online at night, without buying any running shoes, a business can use hyper-personalization to its advantage.
The program will deploy specific algorithms to track and analyze the data that the shopper left behind (typically through cookies) and customize a campaign to send push notifications to pitch a discount that is specific to that particular shopper just for running shoes, typically at night around the same time they've searched for that product before.


How To Get Started With Hyper-Personalization
Hyper-personalization all comes down to blending real-time data and artificial intelligence. However, for companies new to this approach, getting started can seem like a massive undertaking.
The good news is as hyper-personalization becomes more common in our world, it has become easier for even smaller brands to utilize personalization to their advantage. Here are some of the milestones of your next hyper-personalization campaign.
Creating Unique Ads
With hyper-personalization, the customer starts the engagement process by shopping online. As a retailer, you can then target that customer with unique ads that render relevant products or customer information with welcoming language. You can also use ads to provide them with directions to a product, service, or discount or to provide their information.
Developing Landing Pages
Landing pages aren't exactly new, but they are still as effective as ever. With the right hyper-personalization tools, you can launch a customized campaign that uses data and the details of where customers are located, including their past visits, geographic data, and preferences. This can include the type of products they are interested in.
Using Recommendation Engines
Recommendation engines have algorithms that detect certain data points from a shopper. It will then use this information to present content, products, services, or recommendations tailored specifically to the customer.
Launching Omnichannel Customer Messages
This step involves bringing together the information from databases along with AI so that you can recognize and connect customers from online and offline shopping channels.
Utilizing Service Chatbots
Chatbots are another piece of technology that has been used for many years, but recently these bots have advanced to be smarter and more engaging than ever. By using conversational AI technology, these bots can learn a customer's behavior and engage with them and offer them more personalized recommendations and services.
Dynamic Offers and Pricing
This step provides casual shoppers with an incentive to buy by offering them dynamic offers for the types of products they are looking for. This is a great way to take casual shoppers and turn them into actual buyers by offering limited-time, personalized discounts that can encourage a purchase.
Auto-Filled Documents
The longer that the checkout takes, the longer shoppers have to change their names. To speed up the process, hyper-personalization can fill out applications, documents, and check-out information using existing customer data. This expedites the checkout process and helps prevent cart abandonment.
Real-Time Product Notifications
After a shopper has purchased a product through your Ecommerce store, the engagement doesn't end. Real-time product notifications give customers updates on shipments, promotions, and re-order information based on their purchase history.
Loyalty Programs and Re-Engagement
The original transaction creates historical data for the customer, allowing the business to continue to engage with the customer moving forward. This means the brand will have the customer's purchases, segmentation, and data in place so that they can create customized offers and messages for that retailer.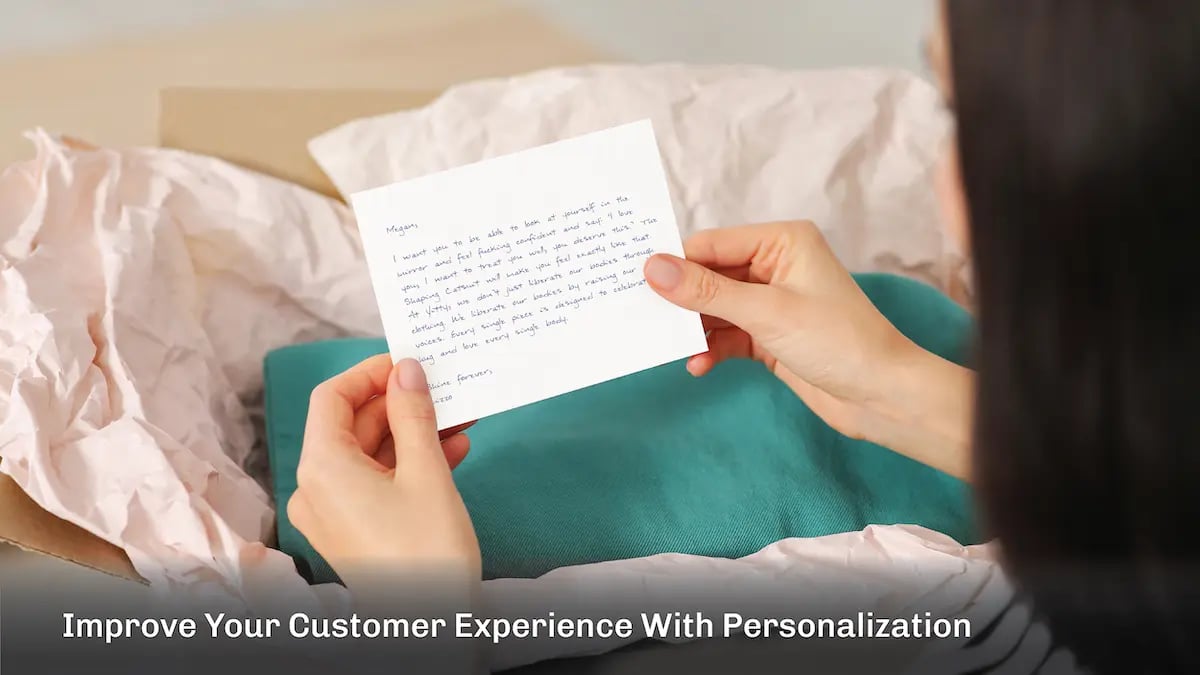 Conclusion
Of course, every company is unique, and this strategy may not apply to every single brand every time. However, it is a proven outline that can help you get started as you begin implementing a hyper-personalization campaign.
There are ways to make sure your Ecommerce brand gets the attention that it needs and that customers can find your products with ease. All you need to do is start your hyper-personalization campaign today to see it in action.