Top 10 Warehouse Management Systems of 2022
8 min read
September 6, 2022
A Warehouse Management System (WMS) is an essential component of any successful Ecommerce business. While these programs won't necessarily define your business, they can help simplify some of the logistical challenges involved with storing, managing, and shipping products.

While there's no shortage of different warehouse management programs, they aren't all created equal. We're here to help you sift through the available platforms and find the right one for your company's needs.

So which warehouse management platform is the "best" for your Ecommerce business?
2022 Best Warehouse Management Systems
Let's take a look at 10 of the most popular options together.
3PL Warehouse Manager
Best For Scaling Your Business
3PL Warehouse Manager is an entirely cloud-based management system that works on a SaaS model. Designed with ease of use in mind, this program will handle and manage third-party logistics and assist with billing, real-time data integration, and multiple-customer management.
Additional Features:
Uses robotic process automation to improve business profits
Complete inventory management capabilities
Integrates with most standard warehouse management programs
Comes with radio frequency identification (RFID), barcode scanners and EDI
This WMS system also integrates seamlessly with popular accounting systems like QuickBooks, making it a seamless addition to many businesses' existing daily operations. This program is also designed to be highly scalable so it can grow with your business as it expands.
3PL Warehouse Manager Sample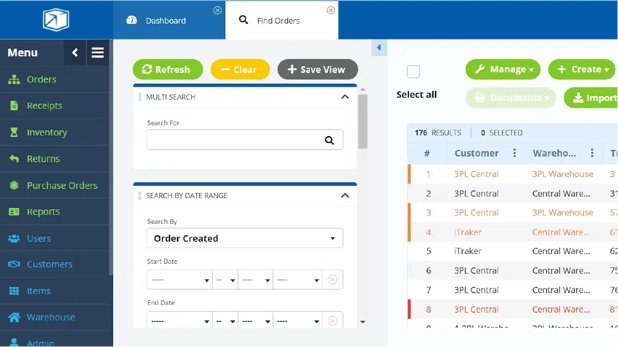 Sortly
Best For Visually-Inclined Users
Sortly provides a more visually-appealing warehouse management program that caters directly to smaller businesses. This program is fully customizable and can track items and their details across multiple locations. Plus, this software is simple, straightforward, easy to use, and can operate on virtually any type of device.
Additional Features:
Ability to create and print QR labels and barcodes
Includes QR scanner in its mobile app
Ability to track inventory and user activity
Can create custom PDF and CSV reports
Ability to create automated alerts to track stock levels
There is even a free version available of this warehouse management program for businesses that have 100 entries or less. However, before signing up, you should be aware that this program doesn't have any integration capabilities, if that is important to your company's day-to-day operations.
Sortly Sample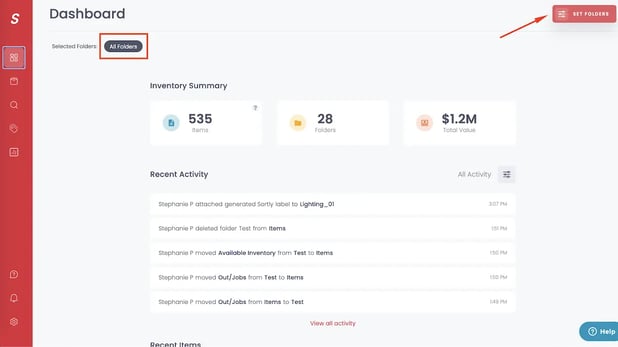 HighJump
Best For Companies Who Need to Change On-the-Go
If you are on the hunt for a new robust warehouse management system that does a little bit of everything, then HighJump is a great option to consider. This program is entirely cloud-based and designed to work with mobile devices.
This system prides itself on innovative solutions, which is why you can customize certain features of this program and respond to changes yourself, instead of waiting on the technology provider to do so.
Additional Features:
Cloud-based management system
Supports multi-client operations
Provides yard management and labor management solutions
Offers Omni-channel fulfillment
Comes with ERP integrations
Smart features such as this help HighJump stand out from the competition. However, while this program is filled with impressive features, it does not come with reporting functionality or card-processing capabilities.
HighJump Sample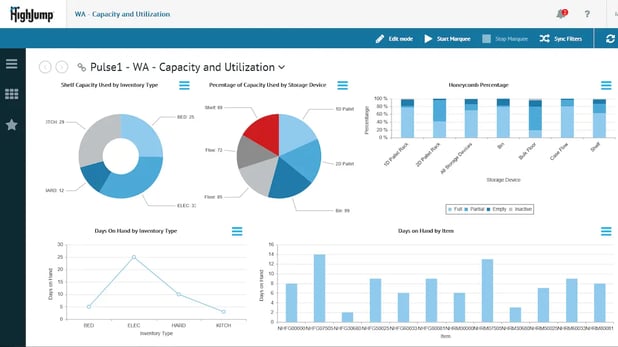 Astro WMS
Best For Companies Who Value Flexibility
Astro WMS is a platform developed by Consafe Logistics.
This European-developed program creates warehousing solutions for all types of companies and works for small and large Ecommerce companies alike. This WMS solution also works for businesses in all types of industries.
Astro WMS is scalable, flexible, and designed with accuracy in mind. However, this isn't where the features stop.
Additional Features:
Supports ERP integration systems
Allows users to plug in their functionality per requirement
Optional voice picking capabilities
Ability to add real-time overview features
Offers resource planning and yard management services (if necessary)
With Astro WMS in place, Ecommerce companies can reduce picking errors and can interact with other systems you already have in place, making it a seamless addition to your already thriving business.
Astro WMS Sample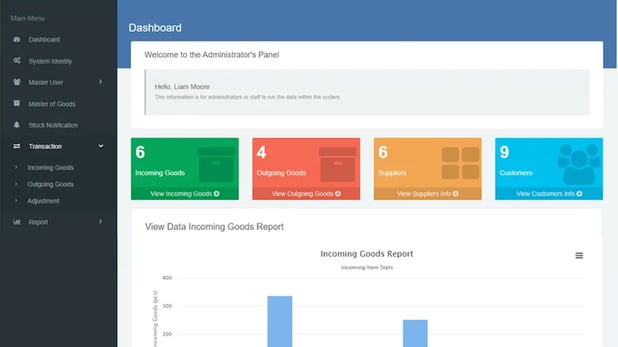 Oracle NetSuite
Best For Companies Wanting to Streamline
If your company is looking to simplify and streamline its processes, then NetSuite WMS is a great option to consider. It helps Ecommerce business owners who feel overwhelmed with receiving, storing, and shipping goods to simplify and improve their existing processes.
Additional Features:
Production management capabilities
Financial management services
Provides smooth logistics management services
Allows users to define product-picking and put away strategies
Integrates with multiple third-party plugins
This Oracle product, however, is not a full enterprise resource planning (ERP) system. While it does provide some ERP features, if you need something more robust to manage day-to-day business activities, make sure you follow up about what Oracle NetSuite can and cannot do for you.
Oracle NetSuite Sample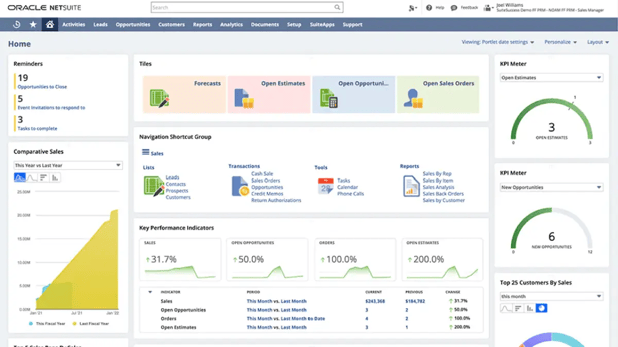 Manhattan WMS
Best For Companies Who Need Inventory Management and Warehousing
Manhattan WMS is a flexible software program that not only helps businesses with their warehousing needs but also helps them with inventory management. If your Ecommerce business needs a software program that can handle a little bit of both, then Manhattan WMS is a great solution.
Additional Features:
Mobile friendly
Uses AI algorithms and learning principles to streamline order processing
Allows multi-carrier deliveries
Streamlines order management
Offers supply-chain management features
Promotes on-premise cloud deployment
In addition to these features, Manhattan WMS provides support for cross-docking, something a lot of their competitors aren't able to offer. From handling shipping and receiving to helping with customer satisfaction, enhancing goods flows, and everything in between—there is a lot that Manhattan WMS can offer Ecommerce businesses in need.
Manhattan WMS Sample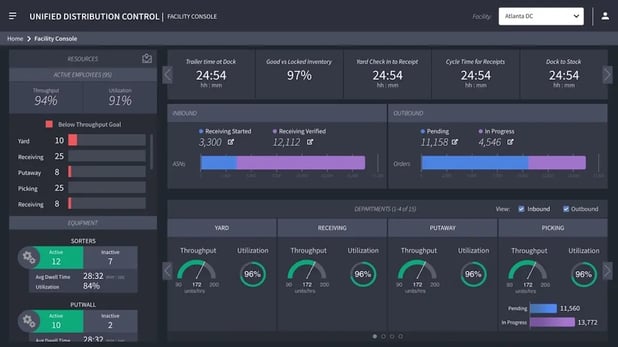 Cin7 WMS
Best For Businesses With Lots of Apps
If your Ecommerce business operates thanks to the support of numerous third-party applications, then it is important to find a warehouse program that can keep up. This is where Cin7 comes in. It can seamlessly integrate with more than 100 third-party applications, meaning you can access all of the business features you need in one convenient place.
Additional Features:
Real-time PoS (Point of Sale) terminal integration and tracking
Utilizes the omnichannel approach
Provides complete inventory tracking
Allows business owners to run promotional campaigns
Cin7 WMS can do a lot for your business, but keep in mind that this feature-filled platform can have a rather steep learning curve, particularly for those who aren't particularly tech-savvy. You can give the program's free demo a try to see how it works for yourself. However, once you get the hang of all that this platform has to offer, you will be able to take advantage of a program that can truly add to your bottom line.
Cin7 WMS Sample
Fishbowl Warehouse
Best For Medium-Sized Businesses
Fishbowl Warehouse is a program designed specifically with small to medium businesses in mind. While it features a simple and easy-to-navigate platform, this program does more than just inventory management features.
Additional Features:
Affordable pricing and payment plans
Complete inventory tracking capabilities
Integrates seamlessly with other third-party apps
Multi-location warehouse tracking
USPS integration to simplify order fulfillment
This Fishbowl program works seamlessly with QuickBooks to help businesses reflect accurate inventory levels across the different warehouse and accounting departments. Plus, you can test the waters of Fishbowl yourself by opting in for the program's 14-day free trial.
Fishbowl Warehouse Sample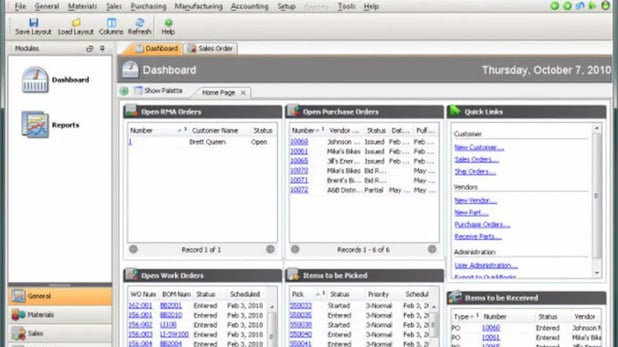 SAP Warehouse Management
Best For Large Enterprises
Many companies are already familiar with SAP, a major player in the enterprise resource planning industry, and the company's warehouse management system more than lives up to the company's reputation. Designed to work even with larger businesses, this management system is highly-flexible and designed to simplify the warehouse management process.
Additional Features:
Real-time reporting features
Easily integrates with other programs
Inventory tracking
Multi-faceted supply chain management features
Cross-functional analytic support
Storage and internal process control
If you are looking for a program that can truly keep up with your warehouse operation needs, then this program is sure to deliver. It can even handle some of the more complex elements involved, including yard and labor management and more so you have complete control.
SAP Warehouse Management Sample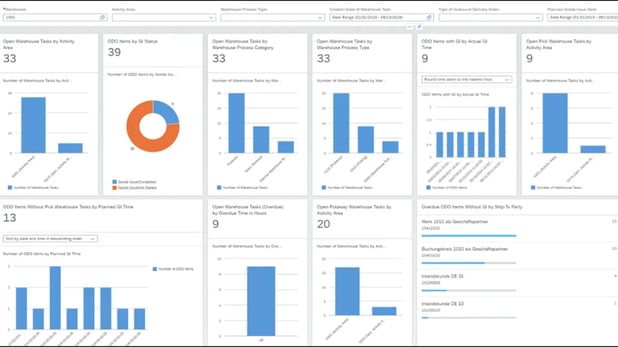 Aptean Catalyst WMS
Best For Businesses Who Value Automation
For busy business owners who prefer for things to be automated, there is the Aptean Catalyst WMS. For every process that this program supports, it works to automate as many time-consuming tasks as possible. This frees up the warehouse manager's time and allows their attention to go towards more important areas of the job. These aren't the only features manager can expect from their program either.
If you need to improve employee productivity, which can, in turn, promote greater customer satisfaction, then this software program can check a lot of boxes.
Additional Features:
Easy integration with existing business applications
Fast and simple scalability for growing businesses
Offers complete labor management facilities
Offers supplier quality tracking capabilities
One thing to keep in mind—while Catalyst offers numerous features other programs don't, if data export and reporting features are a high priority for your brand, then there are other programs that value these features more.
Aptean Catalyst WMS Sample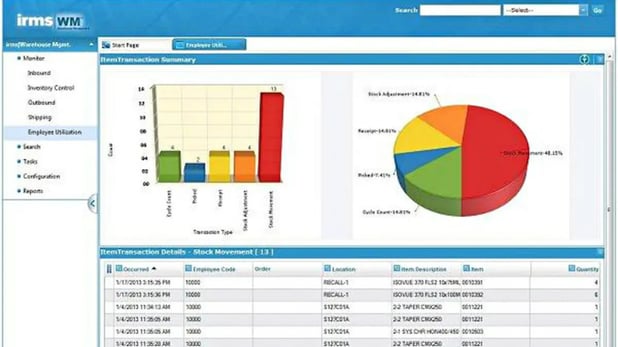 Conclusion
Just remember, when push comes to shove, you know what's best for your business. There are so many options when it comes to Warehouse Management Systems. Take your time, explore your options, and above all else, trust your judgment.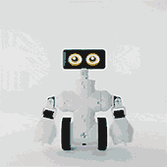 You've made it this far and you've learned so much. Congratulations!

If you still have questions about WMS options or Ecommerce in general, you can always reach out to us at: solutions@undigital.com