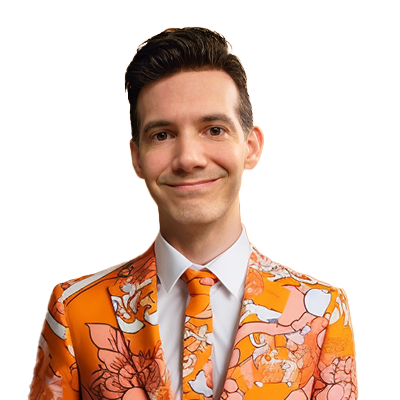 Tyler DeLarm
Head of Demand Generation @UnDigital
About
Tyler DeLarm is a seasoned business leader with a reputation for building and guiding successful teams. Fueled by a passion for helping brands unlock their potential, he has spent his career redefining how companies engage with their employees and customer base. With a unique combination of expertise in brand positioning, organizational behavior, and demand generation, he has been instrumental in adding millions of dollars in annual revenue to multiple companies.

But Tyler is not just about the data and revenue. He brings a distinctive leadership style to UnDigital that fosters a supportive and inclusive environment. His typical day involves encouraging his team, celebrating their successes, and breaking down silos while regularly emphasizing that "doing something nice for oneself" is an essential part of professional life.

In addition to his stellar leadership qualities, Tyler frequently delivers impressive operational achievements. His strategic SEO implementations have boosted website traffic by staggering percentages. He has multiplied the number of new leads significantly, and his introduction of new processes has led to significant pipeline growth at every level.
Adept with numerous platforms, Tyler's toolbox includes everything from HubSpot and SemRush to Adobe Suite and ProTools. He is a self-starter who can quickly learn and adapt emerging technologies to meet his team's needs.

As a certified Lean Six Sigma Blackbelt with a Master of Business Administration focusing on Marketing, Tyler's academic foundations make him a natural fit to lead the pipeline initiatives and shape processes across departments here at UnDigital.

DeLarm's strategic thinking, results-oriented execution, commitment to team-building, and relentless innovation make him an invaluable asset to UnDigital's revolutionary mission.
Outside of work
Beyond his professional life, Tyler is a deeply involved parent, an enthusiastic pet owner, a creative musician, a prolific writer, a passionate traveler, and a dedicated student of life. His devotion to his family is at the heart of everything he does. Cherishing every moment spent with his bright and spirited daughter, he consistently prioritizes nurturing her growth and development. He also finds immense pleasure in spending time with his lively Great Dane, Doctor River, whose playful antics add a special touch to his home.

His creativity also extends beyond the office. Tyler is an established musician, having penned and recorded several albums. His passion for music illuminates his multidimensional personality, showcasing the versatility that extends beyond his professional achievements.

Tyler also contributes extensively to his field and beyond as a writer, having authored hundreds of articles on technology, finance, and marketing. His writings underline his expertise and eagerness to spread knowledge, further solidifying his position as a thought leader in his industry.

In a nutshell, Tyler's life outside the workplace showcases a balance of family commitment, creative expression, and lifelong learning. His multifaceted personality truly reflects the spirit of a leader who values the richness of life in all its forms.